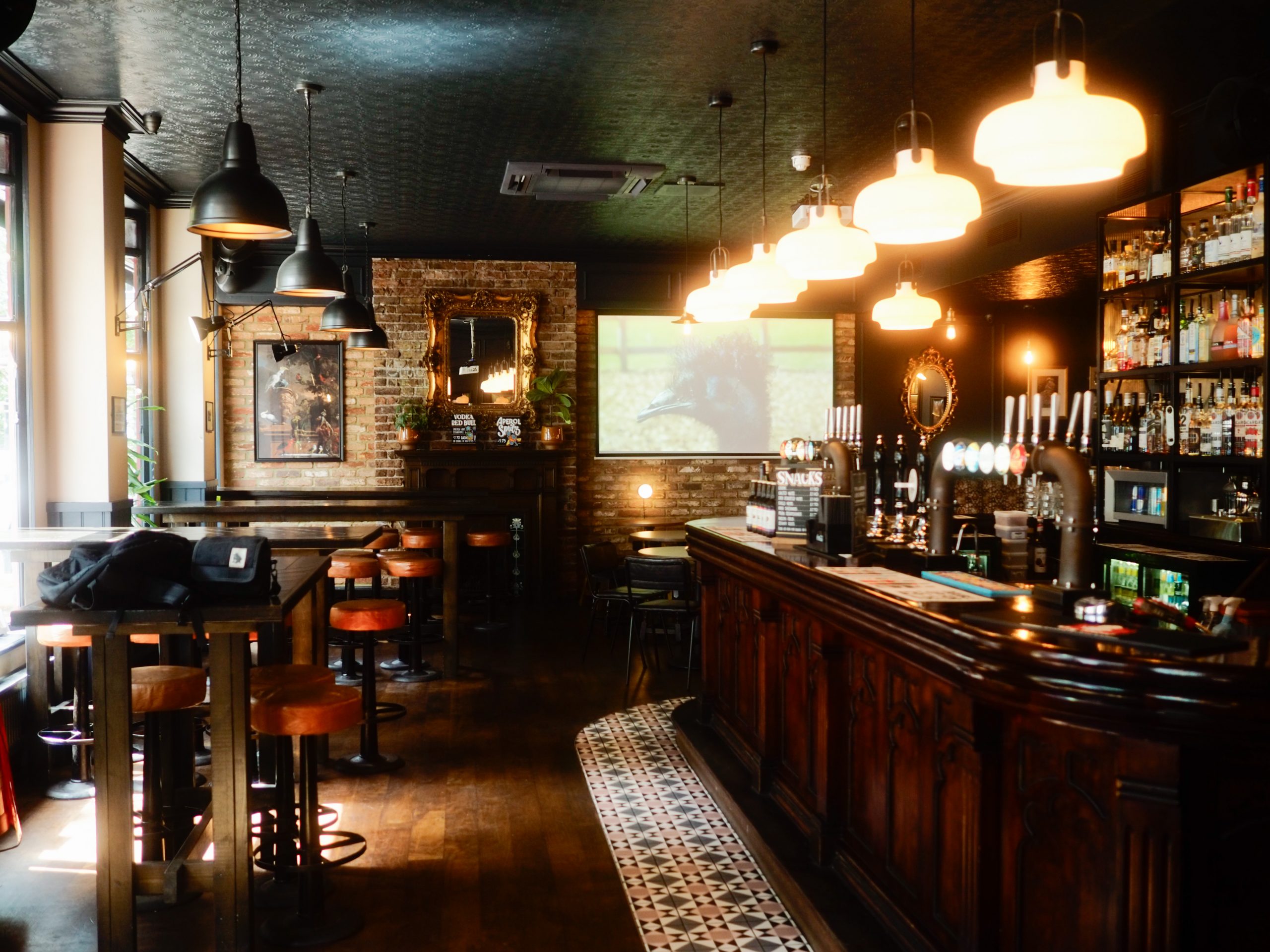 A stone's throw from Brighton Train Station, The Queens Head is a pub worth spending time in. You could happily spend your day people watching as the hustle and bustle of commuters, shoppers and tourists rush by at all hours of the day.
Enjoy our great range of draught beer and cider including Blue Moon and Cobra! We pride ourselves on the range and care of our Sussex Real Ales.
We have a nicely balanced wine list to choose from as well as 2 big screens at both ends of the bar so you won't miss any of the action during our many live sport screenings.
Watch all the major sporting action live on 2 big screens.
Yes, we show  Premier League matches even those on BT Sport!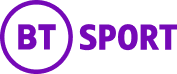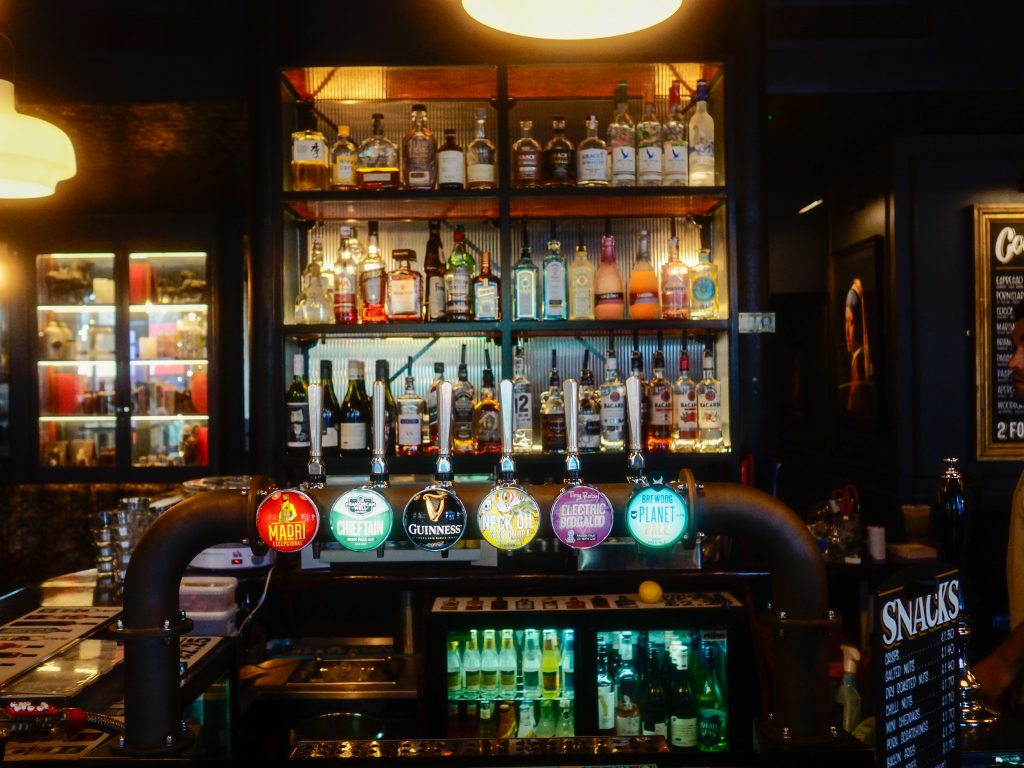 Discover our range of locally brewed ales
When you walk into the Queens Head the first things you see are the cask beer pumps. Every ale we serve is from a local Sussex brewer, and the choice changes with the seasons.
Can't decide? Check out the tasting notes or ask one of our helpful, knowledgeable barstaff. They'll even give you sample to try.
Most importantly, we're proud of our ales and you can be sure that whichever one you choose will be in perfect condition and give you a true taste of Sussex.
Bursting with flavour, this popular 5.1% hazy pale ale leads with intense notes of citrus fruits, sweet tangerine, grapefruit & stone fruits
Casual Pale is a crisp, clean pale ale with a soft mouthfeel and refreshing citrus hop aroma and flavour, brewed to be enjoyed with good friends.
Rammed with juicy malts and huge aromas of mango and grapefruit. Massive additions of American hops are added to the whirlpool giving huge hop flavour.
The light and zingy taste of Neck Oil delivers the perfect balance of hops and upbeat tropical flavours to give you something extra special…
A Pale Ale with a big mouthfeel from a liberal amount of oats in the mash for a thick and luscious body. Hazy with an abundance of flavour but at a sessionable 4.4%
A light and delicate Pale with bags of vibrant citrus, peach and tangerine, all rounded off with a super soft and gentle bitterness.
Paddleboarder is our super session pale ale. Single hopped with Mosaic giving fresh notes of blueberry, tangerine and papaya fruits. Light in alcohol, but full in flavour. Kick back, relax and ride those smooth seas!
A session strength IPA, crisp with an assertively dry bite and a fruity finish. Expect notes of passion fruit and a slight honeyed sweetness from the pilsner malt.
This juicy pale ale plays on classic tropical and pine flavours, with a relaxed mango twist.
– Brewed for the ultimate session! This Passion Fruit Lil' NEIPA will have you up out of your seat and onto the dance floor…
Fruit Machine IPA is our smooth and rounded NEIPA with a low bitterness and creamy sweet mouth-feel from high amounts of flaked oats & carapils in the malt bill.
The UKs No.1 Tropical IPA. This is what happens when you slice PINEAPPLES, squeeze MANGOS, crush PEACHES and pummel PASSIONFRUIT into an IPA.
Wind down with the smell of citrus, a tropical taste and a perfectly smooth finish.
 This light, golden classic has been subverted with new world hops to create an explosion of flavour. Bursts of caramel and tropical fruit with an all-out riot of grapefruit, pineapple and lychee, precede a spiky bitter finish.
This full-tilt fruit machine of an IPA packs all the flavour but less of the alcohol. Notes of pineapple, mango, stone-fruit, and a hint of tangerine to mix it up. Planet Pale – This quaffable creation is laced with Columbus, Chinook and Citra hops for a sharp citrus aroma and piney notes that give way to mellow tropical fruits.
Double dry hopped juicy, hazy, pale ale, packed with Citra and Mosaic hops.
Whirlpooled, hopped in ferment, and dry-hopped for maximum flavour and juiciness. Brewed with oats, wheat, and barley to produce a soft and fulfilling brew.
A light soft bready malt backbone, with tropical citrus hop notes shining through with a hit of bitterness on the finish
A tripped out psychedelic journey through the juicy delights of new world hops; citra, summit & cascade American hops offer waves of tropical fruit with light bitterness on a crisp extra pale malt base.
Perfectly balanced with a complex bittersweet malty taste, fragrant hops and a characteristic long deep finish. A traditional Sussex style Best Bitter.
A light coloured golden ale with a distinctive hoppy aroma and crisp clean bitterness on the finish. Smooth light and refreshing.
Copper in colour and Hoppy by nature; Vienna and Premium British Caramalt provide a balanced backbone for the intense tropical fruit aromas. Rising Giant – Made using only the choicest U.S. hops this triple-hopped American Pale Ale has a pleasant citrus fruit aroma and characteristic robust bitterness.
Easy drinking APA. Brewed with caramelised and crystal malts, and a triple addition of Cascade. Expect citrus, spicy and floral flavours. Bluebell Best – Bittersweet, fruity, round and thirst quenching. Crafted from only the best English malt to deliver a beautifully modern take on this most English of beers.
 Bold but beautifully balanced, refreshing and full of taste, soft and pillowy
Contact number: 01273 205 800
Email: quenshead@gmail.com
Where is the Queens Head?